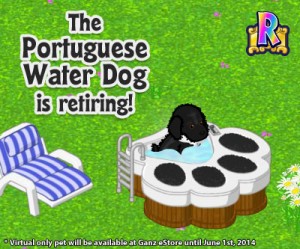 The Portuguese Water Dog is retiring from the Webkinz catalog this Sunday, June 1st, 2014!
Portuguese Water Dog owners can celebrate in Webkinz World!
If you don't have a Webkinz Portuguese Water Dog, you have a chance to find an online-only version of this pet at Ganz eStore until Sunday June 1st, 2014!
Portuguese Water Dogs are smart, loyal, and love to learn new things. Take this intelligent pup to the Academy and you're sure to have a star pupil! After a hard day of play, be sure to let your Portuguese Water Dog take a break in its luxurious Heated Hound Hot Tub!
You may find this online-only, virtual, pet and many more at eStore!