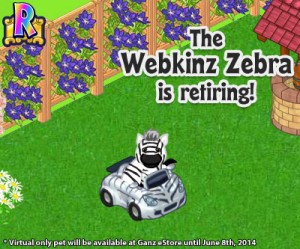 The Zebra is retiring from the Webkinz catalog this Sunday, June 8th, 2014!
Zebra owners can celebrate in Webkinz World!
If you don't have a Webkinz Zebra, you have a chance to find an online-only version of this pet at Ganz eStore until Sunday June 8th, 2014!
The zany Zebra gets noticed wherever it goes! This striped pet is certainly a striking sight – it loves meeting up with friends in Webkinz World! Most of all, it likes to kick back and enjoy a tall glass of Vanilla and Chocolate Striped Trifle!
You may find this online-only, virtual, pet and many more at eStore!