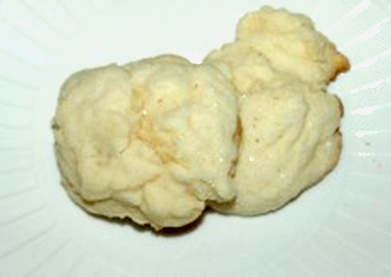 Hi! It's Polly. I'm still baking up a storm for our Secret Santakinz exchange and today I am making MY favorite – Lemon Cookies!
What you need:
1/2 cup butter, softened
3/4 cup white sugar
1 egg
1 tablespoon lemon zest
1 1/2 teaspoons fresh lemon juice
3/4 teaspoon vanilla extract
1/2 teaspoon baking powder
1/4 teaspoon baking soda
1 1/4 cups all-purpose flour
What you do:
Have your adult assistant preheat oven to 350 degrees F (175 degrees C).
Beat the butter and sugar until fluffy. Beat in remaining ingredients except flour. Make sure the ingredients are well-blended.
On low speed, beat in flour just until blended.
Drop by rounded teaspoonfuls 1 1/2 inches apart on ungreased cookie sheets. Sprinkle with sugar.
Bake 10 to 12 minutes until edges are lightly browned.