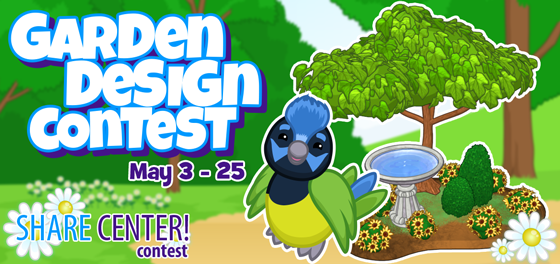 Update: The finalists will be announced on May 29 – not May 27 as originally stated.
The Lil Spring Songbird is flying back to Webkinz World and it's looking for a home! This is your chance to design a beautiful garden oasis for this beautiful eStore exclusive pet! From May 3 to 25, upload your garden designs to the Share Center for a chance to win a Room Design Trophy AND a virtual Lil Spring Songbird! Plus – all ten finalists will each receive a Hand Sculpted Bird Bath!
Here's how it works:
Design a garden Room in Webkinz World
Take a screenshot of your room
Upload your screenshot to the Birdwatching Garden Gallery on GanzWorld Share Center
Check back on May 29 to see if you are one of ten finalists!
The winning design will be announced on Sunday, June 3.