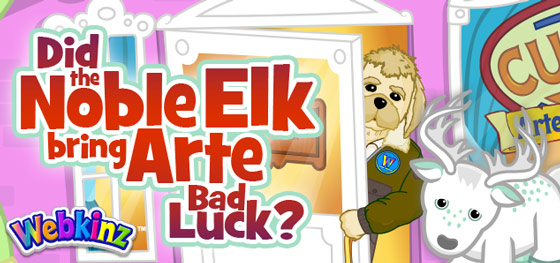 If you read Ella's article in the newspaper in Webkinz, you'll know she found lil' pawprints leading away from the Academy after the power outage. Of course the Noble Elk didn't bring bad luck to Webkinz World – there's no such thing as bad luck! But… there has been another mysterious incident in Webkinz.
You guys all did such a great job visiting the Elk in the Clubhouse that it screwed up its courage and decided to venture out to the Curio Shop and try its hand (or hoof!) at Gem Mining. Arte was a welcoming host as always and was showing the Elk the way to the mines. But when Arte came back up, he found that some items were missing from the back room! Were they stolen?
Ella is investigating the alleged crime. Be sure to follow her articles in the newspaper every Saturday. But in the meantime, the elk, convinced it brought bad luck on Arte, has gone back to the Clubhouse room and won't come out!