It's me, Fiona, back for another round of fan mail! As always, for my past answers, click here! If you miss me, you can always head to KinzPost and send a letter or a package, and I'll deliver it for you! Don't forget, you can add me as a friend by going to KinzChat and adding Fiona Feathers (include the space!).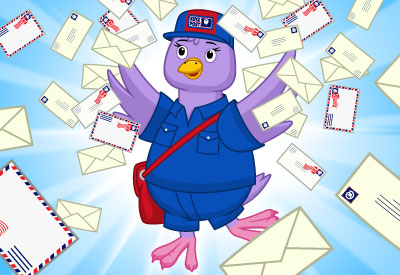 Dear Fiona, I recently became a deluxe member and finally have some estore points to spend. But, for some reason, I can only find my estore points at the W-Shop, and my estore account says that I have 0 estore points. Do I have to do something special to transfer points from my estore account from the W-Shop? I know my current accounts are synced because I bought my deluxe membership on my estore account. – starchic1010
Hi, starchic1010! When you signed up for Deluxe Membership, you would have set where your points are deposited. You could choose to send them to your Webkinz World account or keep them on your Ganz eStore account. You should be able to change where your future points are deposited — send an email to ganzestorecs@ganz.com for assistance.
Dear Fiona: I have loved all of the contests that have come out recently–designing themes, room items, pets, etc. It's always thrilling to see players' ideas turned into real things! My sister and I are big fans of dispensers, and just for fun, we started designing a few of our own. I think we came up with some really great ideas, and so I can imagine what fantastic ideas other players must have! Do you think it would be possible to have a few dispenser design contests in the future? (Design a new dispenser, design a candy tree, design a patio plant, etc.) I think it would be really fun to enter some of our ideas, and to see what other players have come up with! – pinkiecupcake
That's a great suggestion, pinkiecupcake! I'll be sure to pass it on. Keep your eyes on the Share Center — you never know when the next design contest will be!
Hi Fiona! Ok webkinz day I logged into my account but it didn't give me any of the prizes everyone else got. My siblings had logged in a few minutes before me and they all got them so I was really confused why it didn't let me. Is there any way I would still be able to get them? – BabyCakes1357
Sorry to hear that, BabyCakes1357. Were you using the Desktop App, by any chance? When collecting log in prizes, you have to make sure you quit the app completely before logging in to another account. If you forget, you'll need to log in through the website to get your login gift. Please contact webkinzsupport@ganz.com about your missing prize.
Want to write to Webkinz?
Send your letters to:
Ganz #04360 Industrial Parkway
Cheektowaga, NY
14227-9903
Have more questions? Ask them below and you might be featured in the next edition of Fan Mail with Fiona!