It's me, Fiona, back for another round of fan mail! As always, for my past answers, click here! If you miss me, you can always head to KinzPost and send a letter or a package, and I'll deliver it for you!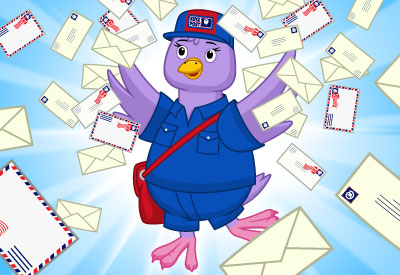 So I can just write my question here? SWEET! Ok, Hi Fiona! This is my first time doing this but here goes nothing. I love to write, I love to write songs too. and there is so many cool songs in Music Starz in Webkinz World. I was wondering, is there any way to write a song about a pet that can be in the Music Starz? I know that all of the songs are about pets of the month but could I just chose a pet to write about? I hope you can answer my question. -orangewing2020
Thanks for writing, orangewing2020! While nothing is impossible, it's unlikely that Music Starz will be updated any time soon — but you're more than welcome to write songs about Webkinz pets! If you end up recording your songs and posting them on YouTube, they might be featured right here on Webkinz Newz in our Movie Showcase!
Hello, Fiona! Thanks for answering all these questions! Here is my question: Will Hatch The Dragon ever be for non-deluxe members on mobile? When it first came out on mobile all players could play it, and then it ended. I was hoping you'd bring that back for non-deluxe members like it was when it first came out. Thanks! – winterwarriorwolf
Hatch the Dragon is one of my favorite games! Unfortunately, it was always meant to be a Deluxe game — it looks like something got missed when it was added to the mobile app. So, no, it won't be changed to a non-Deluxe game. At least you got to try it out, and you can always play it when it's the Game of the Day on the website!
Hi Fiona! Is Ganz going to make any more Rockerz Pets? Cause I have collected every single Rockerz there is. I would really love it if Ganz did. Would you think a Rockerz Husky would be cool? ShadowMist12
A Rockerz Husky WOULD be cool! Right now, there aren't any plans to make new Rockerz pets, but who knows? Maybe one day in the future they'll revive the line and you'll get to adopt your very own Rockerz Husky!
Want to write to Webkinz?
Send your letters to:
Ganz #04360 Industrial Parkway
Cheektowaga, NY
14227-9903
Have more questions? Ask them below and you might be featured in the next edition of Fan Mail with Fiona!