As part of an upcoming General Data Protection Regulation that was recently passed by the European Union, we have added a way for our players to easily delete their Webkinz accounts. This was added to ensure the privacy of our players and to continue our commitment to provide a safe and secure place to play online. Note that once an account has been deleted, it will be permanent deleted and players will not have the option to recover any items, pets or currency associated to their account.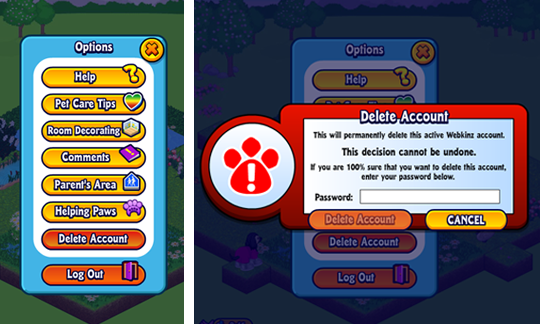 To delete your Webkinz account please complete the following steps:
Log into your Webkinz account at Webkinz.com or from the Webkinz mobile app.
Access the Options menu in the top right of the interface, or from the THINGS TO DO menu on the mobile app
Click on the Delete Account option.
You will be prompted to re-enter your password to confirm your decision
You will be given one last chance to cancel or confirm your decision
Once confirmed, you will be logged out and your account will be deleted.
Again, this decision is permanent and cannot be reversed once completed.
Thanks.
-The Webkinz Team