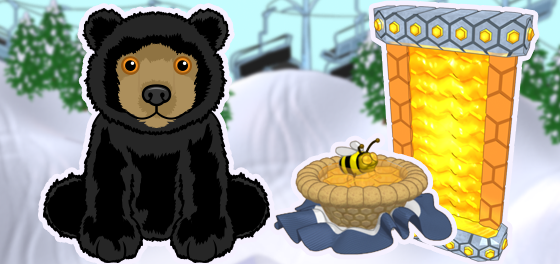 While some Black Bears might sleep right through Winterfest, the Webkinz Signature Black Bear is always on the alert! That's why we thought it would be a perfect recruit for our Rescue Team.
Foraging for food in the wild is a useful skill for Rescue Team members and the Webkinz Signature Black Bear is an expert on sniffing out sweet treats like its pet-specific food, the Honeycomb Custard. And the Signature Black Bear gets a lot of practice sniffing out the sweets with its pet-specific item, the Honey Waterfall.
Each Signature Pet comes with a Wish Token – maybe the Signature Black Bear will save up for an Exotic Bear Cub Statue from the Wish Machine to help mark the snowy trails.
And as a Signature Pet, when their giftbox is dragged into their room, it also includes one item from the Signature Room Theme. The Black Bear could use it to decorate its den so it can relax after a tough day on the Rescue Team.
To add them to your team, you can find the Signature Black Bear and other Signature Pets at Ganz eStore and in the W Shop.