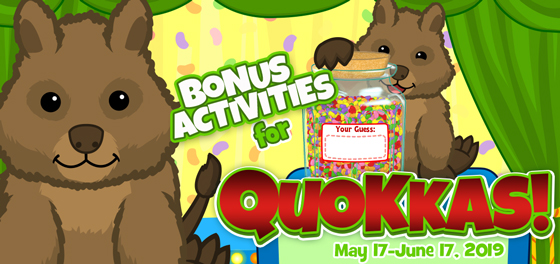 We're welcoming an adorable new pet to Webkinz World on May 17! And to make the new Quokka feel right at home, we are planning a whole month full of fun activities for its owners.
To get your Special Activities, visit 'Today's Activities' which can be accessed through the 'Things To Do' menu when you log into your Webkinz account.
This sweet new pet is sure to win your heart, and every Quokka owner wins with a whole month full of fun stuff to do!
Quokka Special Activities Schedule
May 17 – Big Button of KinzCash
May 18 – Jellybean Challenge
May 19 – Token Balloon Dartz
May 20 – Balloon Dartz
May 21 – Dunk the Zingoz
May 22 – Pixie Pod Seed
May 23 – SPREE roll
May 24 – Something Shiny
May 25 – Wheel of YUM
May 26 – Wheel of Wishes
May 27 – Quick Draw
May 28 – Wheel of YUM
May 29 – Prize Klaw
May 30 – Quick Draw
May 31 – Big Button of KinzCash
June 1 – Something Shiny
June 2 – Wheel of YUM
June 3 – Jellybean Challenge
June 4 – 200 KinzCash
June 5 – W Shop Coupon
June 6 – Pixie Pod Seed
June 7 – Balloon Dartz
June 8 – Wheel of the Month
June 9 – Wheel of YUM
June 10 – Something Shiny
June 11 – Prize Klaw
June 12 – SPREE roll
June 13 – W Shop Coupon
June 14 – Big Button of KinzCash
June 15 – Jellybean Challenge
June 16 – Token Balloon Dartz
June 17 – Balloon Dartz