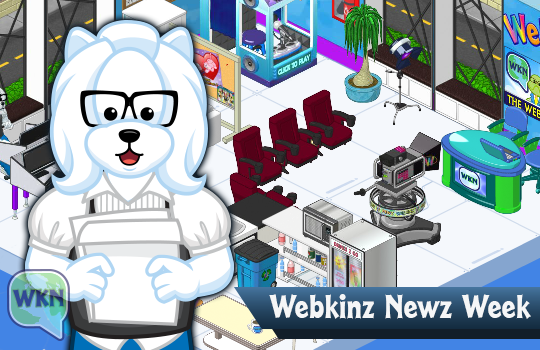 Please stand by… Webkinz Newz Week runs from April 13 – 19 in Webkinz World and you won't want to miss it! You'll be able to win some pretty newsworthy prizes by visiting the Clubhouse and completing a special challenge.
Here's how it will work: Starting on Monday, April 13, you'll have to access the Newz Room at the Clubhouse. You can use the THINGS TO DO menu to get there: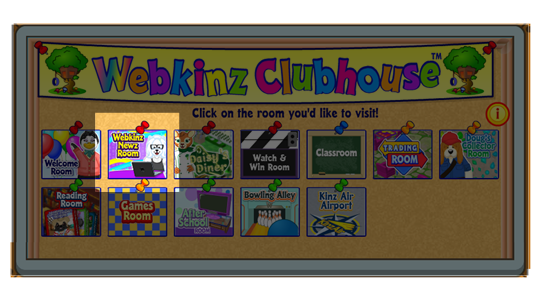 Once you're inside the Newz Room, you can click on the Podkinz recording booth to watch a short video about this year's Webkinz Day. As soon as the video ends, you'll be awarded a special coin in honor of the 15th anniversary of Webkinz (limited to 1 coin a day).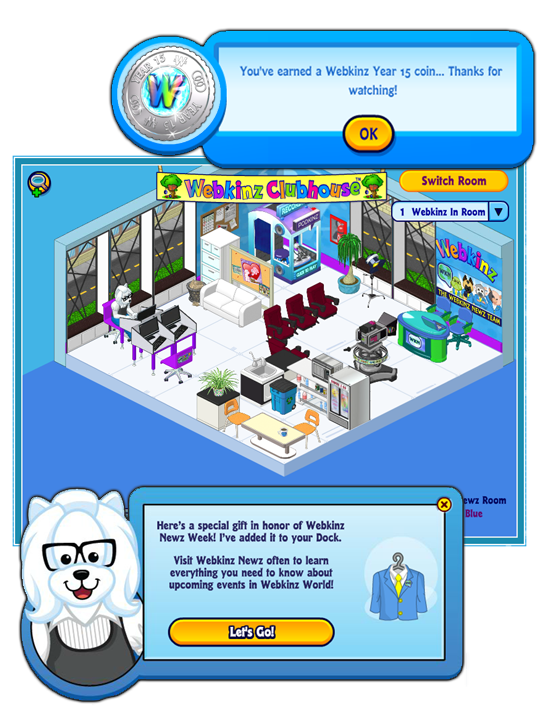 You'll also be able to click on Ella McWoof to get a special prize. She'll likely be blogging away at her desk, but don't worry, she's always excited to meet her fans!
There are 8 prizes to collect, including the rare Webkinz Newz Team signed posters. You'll only be able to get 1 prize daily, so make sure you check up on Ella every day during Newz Week.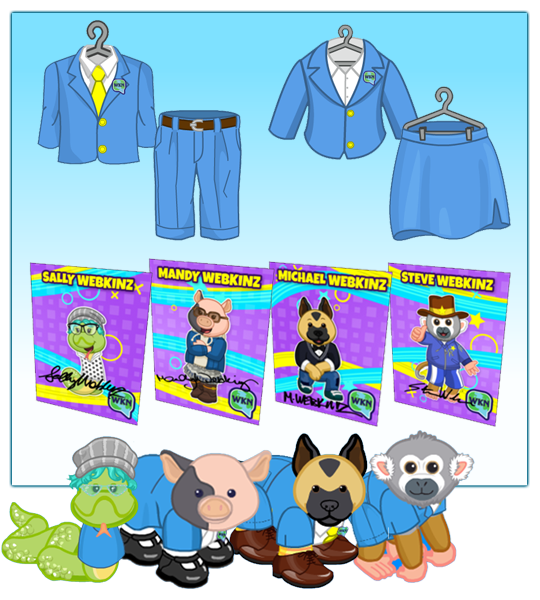 There will be a special challenge available throughout Newz Week. Once you've visited the Clubhouse, you'll want to get to work on your special assignment: Writing a cover story for the Kinzville Times!
Click on the Webkinz Newz Week challenge icon to get started. On April 13, you'll see it displayed along the side of your screen:
When you click on the icon, you'll be able to review the tasks you'll need to complete in order to finish your assignment on time: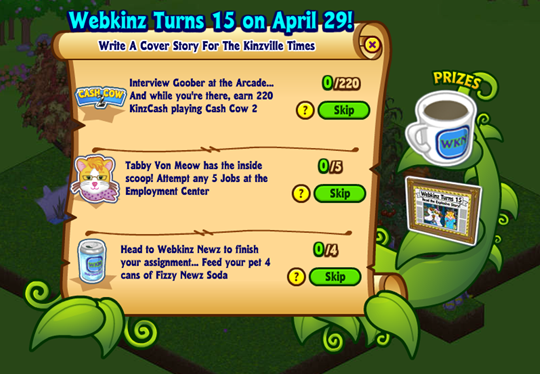 Don't leave the Webkinz Newz challenge to the last minute… Some tasks take time to complete. But, if you do manage to complete your assignment by midnight, Sunday, April 19 (EST), you'll earn a special framed copy of your cover story that you can proudly hang in your pet's room and a Newz Blogger Mug!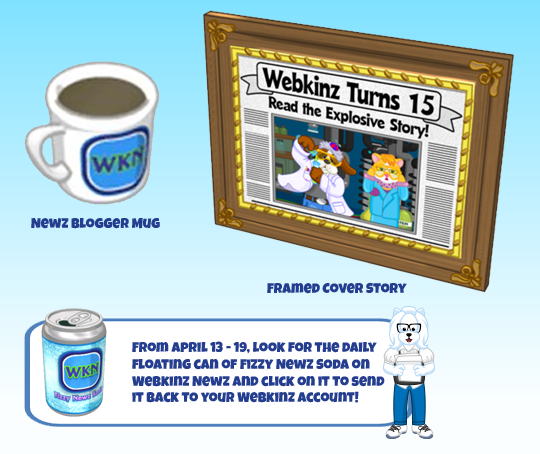 You will need to feed your pet 4 cans of Fizzy Newz Soda to complete the Webkinz Newz challenge, but you'll only be able to find them at webkinznewz.com. You can easily access Webkinz Newz from the THINGS TO DO menu. Look for the daily floating Webkinz Newz Soda can and click on it to send it back to your account. Drag a can of Fizzy Newz Soda onto your Webkinz to feed your pet.
Are you looking forward to Webkinz Newz Week? Let us know in the comment section below…