It's Sally Webkinz here with everything you need to know about Christmas in Webkinz World!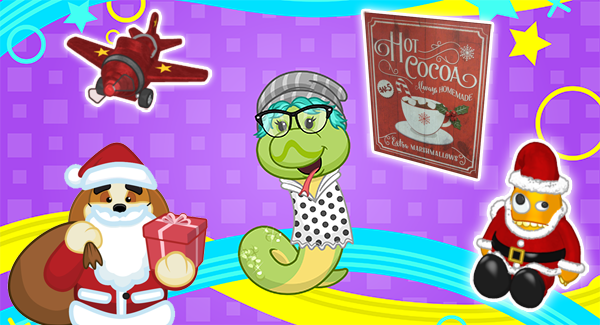 Christmas is almost here and it's one of the most exciting times of the year! December has some great food-related activities. (What can I say? I LOVE food!)
From December 1-31, we've got the Candy Cane Collection, which has some really awesome festive furniture that you can decorate your holiday rooms with. Did you know that you can collect a Candy Cane each day from Webkinz Newz? It's true!
Also food related… the Reindeer Calf is practicing some important flying skills in the Kinzville Park, but needs a little encouragement. If you could head over there and give a kind word or two, you'll be rewarded with a delicious looking Reindeer Calf Cake Pop. Best part? If you eat it, you get a prize!
There's still more to come, though — soon it will be the Countdown to Christmas in the Clubhouse, and Ms. Birdy will be handing out a unique gift each day. At the same time, you'll find an Advent Calendar right here on Webkinz Newz, with a special Community Code that you can use to unlock a prize each day, as well!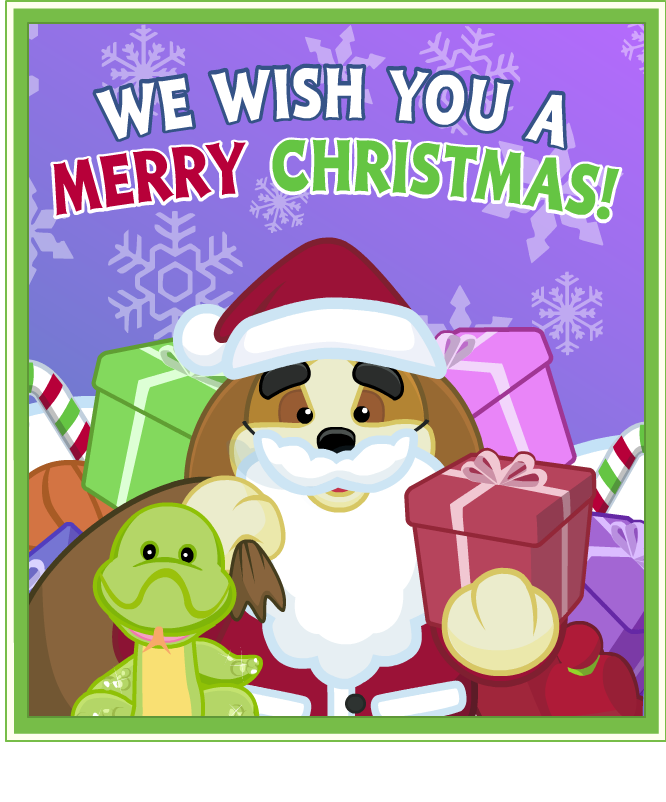 And, of course, who could forget the main event…. meeting with Flu-.. I mean, Santakinz himself! You can head to the Clubhouse right now until December 24th to sit on Santakinz' lap and let him know what you want in your Christmas gift box. That's right, you get to pick your gift, you get a tasty candy cane treat, AND you get a cool picture of your pet with Santakinz, too! And be sure to log in on the 25th to get your gift — you'll also want to head to the Today's Activities page to spin the Super Wheel!
The Webkinz Newz team couldn't resist having their Christmas party a little early, so I took the opportunity to ask them some important questions about Christmas!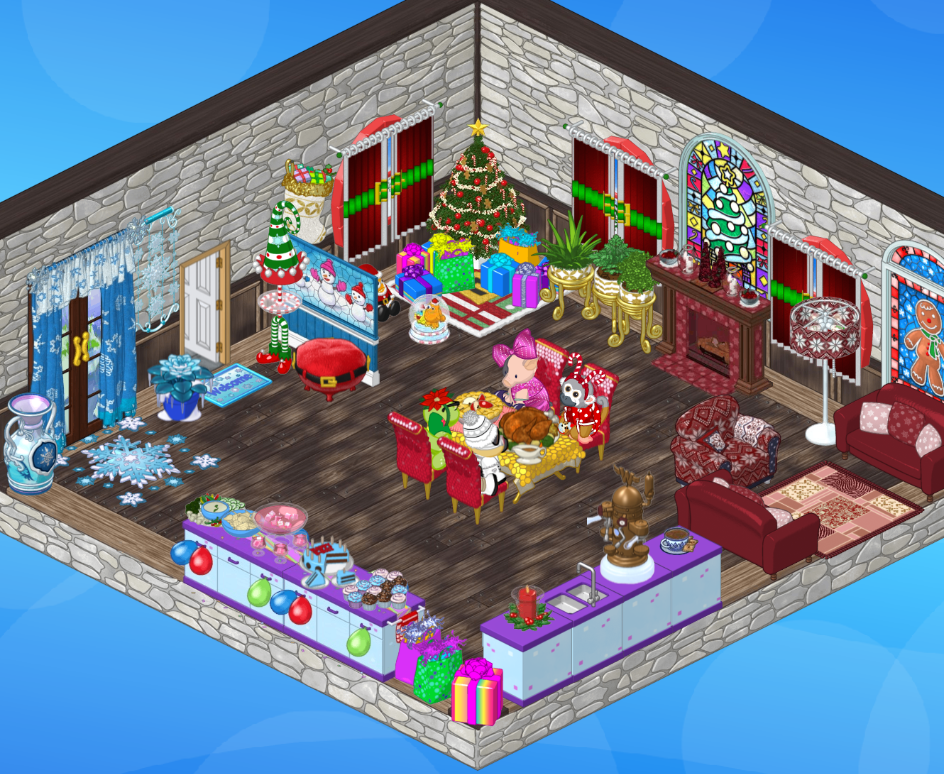 SALLY: Thanks for joining me, everyone! I'm so glad you could make it. I just got back from telling Santakinz what I wanted for Christmas and I was curious what everyone else picked! Mandy, let's start with you.
MANDY: I just love decorating, so I couldn't resist the Hot Cocoa Sign.
SALLY: I do love the vintage feel of that poster — great choice! Stephen?
STEPHEN: I got the Zangoz Holiday Plushy.
SALLY: The plushies are always a favorite. I had such a hard time picking because I've got a plushy collection, but I really wanted the poster, too. I ended up picking the plushy, though. Michael? What did you pick?
MICHAEL: I picked the Hot Cocoa Sign… but then I bought extras of each with my eStore points.
SALLY: D'oh! I should have thought of that. I might have to go back and visit Santakinz again. Since we're about to have some food, here's a question that's near and dear to my heart: what food do you most associate with Christmas? Let's start with you this time, Michael.
MICHAEL: Eggnog… especially homemade eggnog.
SALLY: Oh, that sounds delicious. I'll have to bug you for the recipe. Stephen?
STEPHEN: Even though Thanksgiving wasn't that long ago, I still associate Christmas with turkey.
SALLY: It is delicious, and so often served at Christmas, as well. When I was growing up, we had roast duck sometimes. (Don't tell Mayor Dr. Quack!) What about you, Mandy?
MANDY: It's got to be sugar cookies.
SALLY: Oh, yum! I love sugar cookies — they're so much fun to decorate, too. And I'm sure Santakinz appreciates if you leave him a plate or two, right?
MANDY: For sure! I always bake extra for Santakinz.
SALLY: Good idea! Don't forget some carrots for the reindeer. The food I most associate with Christmas is… pickled herring! Especially curried pickled herring. It's just not Christmas without it. Do you guys have any special Christmas traditions with your families?
STEPHEN: Nothing crazy — just opening gifts with family.
SALLY: That is fun — there are so many ways to do something as simple as that! I've had Christmases where all the presents were in giant sack, and someone is designated as "Santa" and has to pull out each one and hand them out one at a time. But sometimes it's nice to get your pile of presents and dig in. What about you, Mandy?
MANDY: Every year, we go to the Christmas tree farm to pick out our Christmas tree!
SALLY: That sounds awesome! Fresh trees smell so great — you just have to remember to keep them watered. Michael? How about you?
MICHAEL: Every year, we watch National Lampoon's Christmas Vacation.
SALLY: Oh, that's a great movie! There's something very comforting about watching a movie you love again and again with friends and family. My Christmas tradition is that we have Christmas dinner with family on Christmas Eve, then open most of our presents. On Christmas day, we open one more present and spend the afternoon playing board games with close friends!
There you have it, my little elfs. What food do you associate with Christmas? Do you have any special traditions? And, most importantly, what did you ask Santakinz for? Tell us in the comments below!