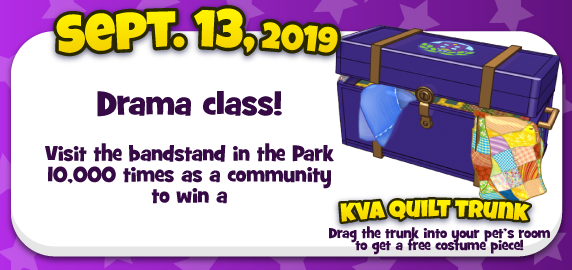 Edited to add: By bandstand we mean the stage. You've almost reached today's goal already. :)
You did it! You completed the challenge! Here is your code for a
Cafeteria Tray

W24B-CGZ2-5FLA-MBUU
Find today's challenge above! And come back tomorrow morning after 9:30 am to find out if you reached the goal!
Missed previous days' codes? Find them here:
Bowl of Apples W24V-7MVR-PGV7-37XJ
Big City Backpack W24U-WL35-8M5Y-PAQ6
Ms. Cowoline Plush W247-TP9U-DYN6-TDHY
Log into your Webkinz account and enter this code at the Code Shop, which can be accessed through the 'Things To Do' menu! This code expires at midnight EST November 30, 2019.