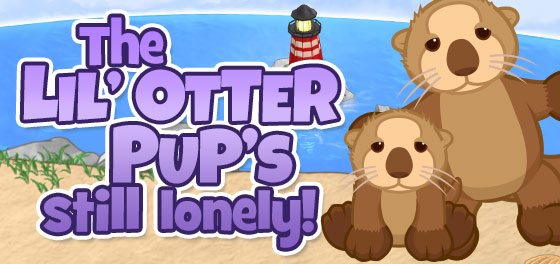 The Otter Pup had planned so much fun for the Lil Otter Pup in its first month in Webkinz World, but the Lil Otter Pup still seemed to be feeling a little down. Finally the Otter Pup decided to ask the Lil Otter Pup if it was still feeling lonely despite all the activities they had enjoyed together. Finally, the Lil Otter Pup looked up at the Otter Pup and asked sadly, "Where are all the other Lil pets like me? I saw lots of other pets at the WShop, but I didn't see any like me."
Oh no, the Lil Otter Pup was feeling lonely for other Lil Webkinz! The Lil' Otter Pup didn't realize that were lots of other Lil' pets but that they could only be found in one place, and that was Ganz eStore!
The Otter Pup had been so busy showing the Lil Otter Pup around Webkinz, it hadn't even occurred to it to show the Lil Otter Pup around Ganz eStore where there are lots of Lil Webkinz! Virtual Lil' bird, fish, and other Lil' pets can all be found at Ganz eStore!
When the Otter Pup introduces the Lil Otter Pup to the eStore and all the cute Lil pets there, the Lil Otter Pup is going to have so many Lil' playmates!