The Webkinz World User Agreement has been updated. Some of these updates include the changes first announced with this special report published on March 2, 2019.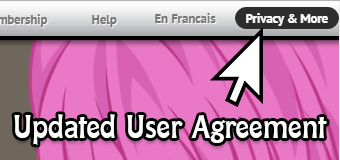 Please take a moment to review the changes by visiting Webkinz.com and clicking on Privacy & More in the top right corner. Please note the following:
As reported earlier, Webkinz World accounts are no longer being archived. Accounts that have purchased pets, in-game currency or Deluxe memberships may be deleted after 24 months of inactivity. Accounts with no paid activity may be deleted after six months of inactivity.
Players with archived accounts will have until September 30, 2019 to retrieve them. As of October 1, 2019, all remaining accounts in the archive will be deleted. As a result, the usernames associated to these accounts will be available once again to register as new accounts. 
The User Agreement now also explicitly forbids the sale or trade of any and all virtual items, with the exception of the trading of items for items through the in-game system. Virtual items may not be sold for cash, traded for eStore points, or traded for any equivalent service or consideration. Accounts violating these terms may be permanently banned.
Additional changes to the User Agreement can be reviewed directly. Please read our User Agreement regularly, as our Service is continually evolving.