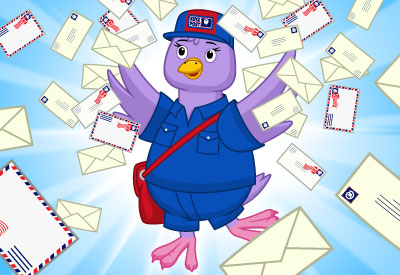 Hello, lovely readers! It is I, Fiona Feathers, here with more of your questions received at the KinzPost! If you're curious, I've also previously answered mail here. Now, what's in the mailbag today?
Dear Webkinz,
What was the first Webkinz ever?
Your friend,
Sophia in Indiana
Great question, Sophia! I asked around for you and the answer is that there was no first Webkinz, there were actually a first SET of Webkinz. They were released in 2005: Golden Retriever, Black Bear, Pig, Cow, Lion, Elephant, and Hippo. To learn more, give the "A Brief History of Webkinz" episode of Podkinz a listen here (or on iTunes)!
Dear Webkinz,
The Tigerlily Pup is AWESOME! I love its colors. When can I adopt one for my own?
Love,
Emma in Arizona
Hi, Emma! I completely agree with you, the Tigerlily Pup is one cute pet! Lucky for all of us, you can adopt them in the W Shop beginning June 4. Not much longer to wait!
Dear Webkinz,
Most Webkinz have different prints like Hawaiian, floral or just any really cool ones. How do you figure out what prints you put on your animals?
Sincerely,
Jada in Utah
What a cool question! The Plush department at Ganz comes up with different plush designs based on fabric prints they come across that they really love. Sometimes these prints help them decide which pet to make; for instance, the Aloha Dolphin is made from a bright and festival tropical flower print, which just makes sense, doesn't it? But of course, the Plush designers always make sure they love the print before they decide to make a pet with it — that way every Webkinz is a cuddly collectible that fans will love, too!
Want to write to Webkinz? Send your letters to:
Ganz
#043
60 Industrial Parkway
Cheektowaga, NY
14227-9903