We have released a lot of Halloween costumes over the years, and now you'll have the chance to add the ones you may have missed to your collection! From October 14 – 31, look for the floating Jack-O-Lantern in Webkinz World and click on it to win a Halloween costume piece (limited to 1 costume piece a day for free players, 2 for full players and 3 for Deluxe Members)
There are a total of 32 costumes to collect. Remember, you'll only get a piece of a costume when you click on the floating Jack-O-Lantern, not the whole outfit. In any case, costume pieces can be traded so you can try to find the ones you're missing at the Trading Room in the Clubhouse.
Here's a look at just 12 of the costumes you can find (full list below):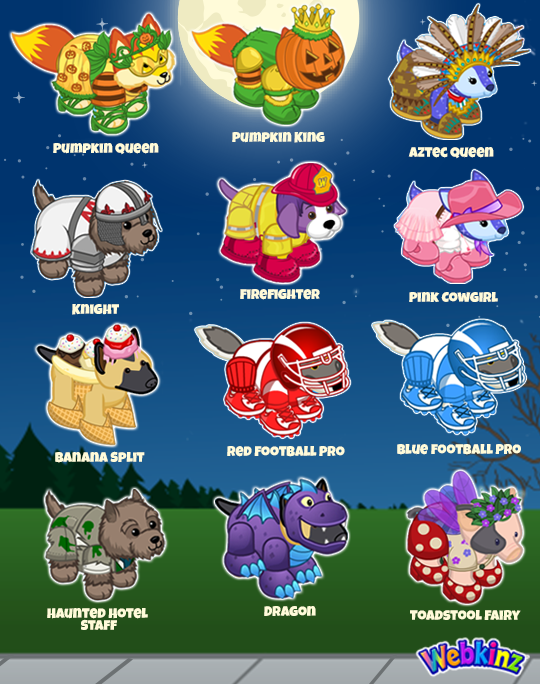 You will be able to find the floating Jack-O-Lantern on Webkinz and on the Webkinz mobile app. Here's a full list of costumes that you can collect:
Black Ninja Costume
Red Ninja Costume
Scarecrow Costume
Vampire Costume
Candy Corn Witch Costume
x-Ray Costume
Zombie Costume
Angel Costume
Cleopatra Costume
Egyptian Mummy Costume
Goblin Costume
Ghost Hunter Costume
Ladybug Costume
Martian Costume
Frog Prince Costume
Robot Costume
Viking Princess Costume
Dark Queen Costume
Firefighter Costume
Garden Gnome Costume
Aztec Queen Costume
Blue Football Costume
Red Football Costume
Dragon Costume
Haunted Hotel Server Costume
Haunted Hotel Staff Costume
Knight's Costume
Pink Cowgirl Costume
Toadstool Fairy Costume
Banana Split Costume
Pumpkin Queen 
Pumpkin King
Looking for the perfect place to store your costume pieces? The Halloween Costume Shop is open for business! This item was released with the new Trick or Treat Street room theme, and when you click on it in your pet's room, you'll be able to use it to store up to 12 pieces of clothing: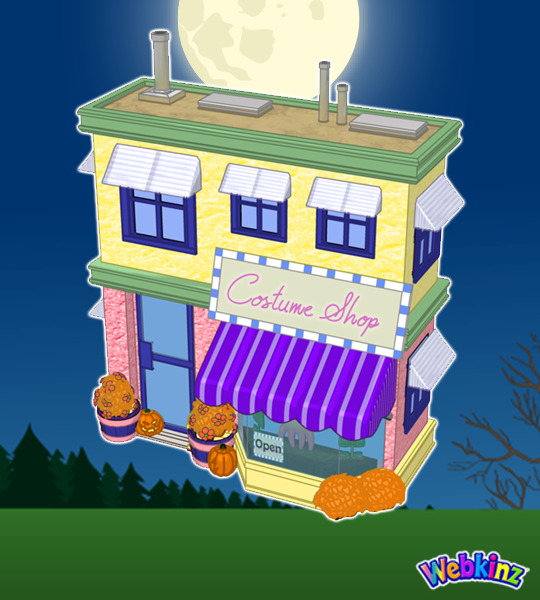 You can find the Trick or Treat Street room theme in the W Shop. You'll find it under the NEW & PROMOS section of the shop… Happy Halloween!