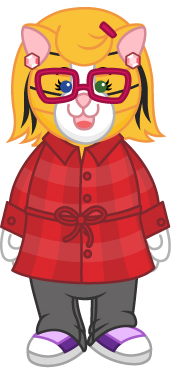 This year, everyone in my grade has to write an "All About Me" project. Here's mine.
Name: Salley Cat
Age: 12
Family Members: Just me and my mom. My dad lives in Western Webkinz World and I don't see him often at all.
Special Talent: I can crochet scarves. I can also fix most computer problems – not many people know, but I'm pretty savvy when it comes to technology. I also make excellent salsa. Everyone says so!
Most Embarrassing Moment: When a certain someone (who shall remain nameless) spilled my salsa all over my new shirt. Ugh. What a mess!
Best Moment: Meeting my BFF Stoogles (which is why it's SO hard to be in a different class from him this year, Ms. Cowoline).
Friends Say I Am: Kind, stubborn, a leader, occasionally forgetful, caring, smart
My Favorite Food Is: This is hard! I love lots of foods. I especially like tacos, salsa, and anything spicy!
My LEAST Favorite Food Is: Believe it or not, I really don't like watermelon.
If I Could Be ANYTHING When I Grow Up, I'd Be: Hmm…this is another tough one. I've got a lot of interests. Some days I think I'd like to be a chef. Other times I think I'd like to be a food reviewer. Sometimes I think I might like to learn to program computers. Maybe I'll be the first cat to do all three!
This Year, I Hope: Ms. Cowoline will reconsider and put Stoogles and I in the same homeroom. It's just cruel to split up best friends. Also, I hope to get involved at school – maybe I'll even form a club or something.