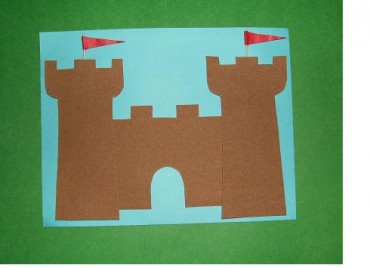 What you need:
-          Sandpaper
-          Paper or card stock
-          Scissors
-          Glue
-          Toothpicks
-          Colored paper
-          Black paint (optional)
-          pencil
What you do:
On the back of your sandpaper sketch out parts of a castle. When you're happy with them, cut them out. You can be as creative as you'd like when it comes to adding different sections to your castle. Why not start with a wall with a crenellated top (that is the square cut out pattern that runs along the top of a castle wall) and add towers and possibly a gatehouse?
Cut out a small elongated triangle from your colored paper and fold the wide end across the top of a toothpick to form a flag. Make one flag for each tower and glue flags to the back of each tower so it sticks up over the top of the tower.
If you'd like, you can create a gate out of toothpicks, paint it black and glue it to the back of the sandpaper at the door of your gatehouse.
Fold about four small pieces of paper or card stock over and stick them to the back of your pieces of sandpaper at each corner to give a raised effect when they are stuck to the page.
Starting with the wall of your castle keep (the main part of your castle), glue the castle to the paper, then glue the additional pieces on top.
When you're done, you have a unique piece of sandcastle art.