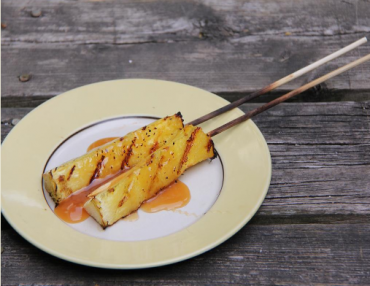 What you need:
-          1 pineapple, peeled and cored
-          1/2 cup caramel sauce
-          Long skewers
-          An adult assistant to help you with this recipe
What you do:
1. Cut the pineapple lengthwise into about 12 long spears.
2. Thread each pineapple spear onto a skewer.
3. Grill pineapple over campfire, turning occasionally, until pineapple is caramelized.
4. Transfer pineapple spears to plates and drizzle with caramel sauce.
5. This is a sure 'fire' way to create a delectable dessert on your camping trip!