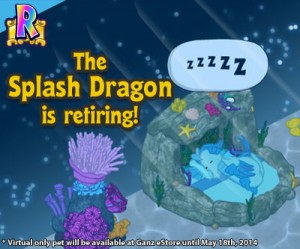 The Splash Dragon is retiring from the Webkinz catalog this Sunday, May 18th, 2014!
Splash Dragon owners can celebrate in Webkinz World!
If you don't have a Webkinz Splash Dragon, you have a chance to find an online-only version of this pet at Ganz eStore until Sunday May 18th, 2014!
The origins of this majestic creature are shrouded in mystery but there is no reason to fear the playful Splash Dragon! Members who adopt this pet will also receive a Sea Legend's Bed and a sugary helping of Salt Water Taffy to share with their new friend!
You may find this online-only, virtual, pet and many more at eStore!