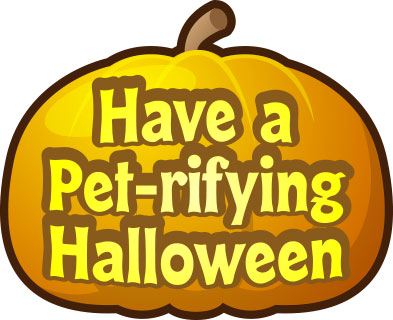 This year is so packed with Halloween fun, we had to start it in September! Check out some of the spooky specials we are planning this year!
Freaky Fan Share Center Contest!
Sept. 4 – 21
Our Freaky Fan Share Center contest started on September 4, but you still have until Sunday September 20 to submit YOUR design for the new Freaky Forest theme for a chance to win 50,000 eStore points! The winning design will be added to the Freaky Forest theme on October 21.
The Frightful Four Pack
September 14 to October 31
The Frightful Four Pack comes with the Zombie Pup, the Midnight Owl, the Black Cat and the Spotted Frog, PLUS the spooktacular virtual Ghostly Grand Piano for just $18.99.
Deluxe Gift Box BOOOOnus!!!
October 1
Deluxe Members will find a BOOOnus item in their October Deluxe Gift Box!
Pet-rifying Pet Pageant Share Centre Contest
October 1 – 31
Dress up your plush Webkinz pet and share a photo of it on the Share Center for a chance to win a plush Zombie Pup or one of four virtual Zombie Pups!
Ghostly Giveaway!
October 3 – 30
Look for the ads with the ghost around Webkinz World for a chance to win an awesome Halloween item! There is a new prize every Friday so look for the ghost to collect all four!
We will be posting more details about these events as the time draws closer so be sure to check Webkinz Newz often so you don't miss any of the frightening fun!